Description
Permintaan Penawaran
Reviews (0)
Description
Alat Ukur ATAGO genggam PEN-PRO Refractometer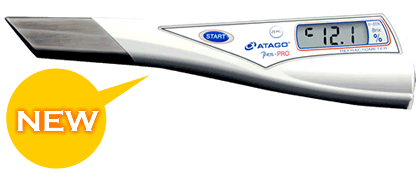 Alat Ukur ATAGO genggam PEN-PRO Refractometer atau biasa kita sebut dengan DIGITAL REFRACTOMETER ATAGO PEN-PRO memiliki jangkauan pengukuran Brix 0,0-85,0% yang dapat digunakan untuk mengukur hampir setiap sampel. Ada 2 cara untuk mengukur dengan PEN-PRO. Bisa dengan cara mencelupkan ujung ke sampel dan tekan tombol START ATAU tekan tombol START terlebih dahulu baru kemudian menyentuhkan ujung alat ini ke sampel yang akan diukur. Ada juga fitur baru untuk melakukan pengukuran berkelanjutan. Rentang suhu pada refractometer PEN-PRO "Type Celup" sudah ditingkatkan dari 60°C sampai 100°C. Tidak perlu lagi menunggu! untuk mengukur sampel yang panas sementara dalam proses pemasakan, seperti sup dan saus.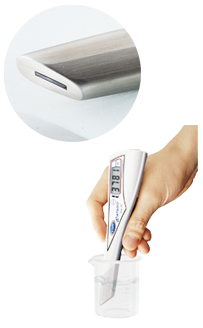 Model
PEN-PRO
Cat.No.
3730
Rentang Pengukuran
Brix 0.0 to 85.0%
Minimum Iindication
Brix 0.1%
Tingkat Akurasi Pengukuran
Brix± 0.2%
Temperatur Pengukuran
10 sampai 100 ° C (Automatic Temperature Compensation)
Temperatur Lingkungan
10 to 40°C
Sumber Daya listrik
1 × Baterai Ukuran AAA alkaline
Perlindungan kelas internasional
IP65 Debu-ketat dan dilindungi terhadap jet air.
Kepala prisma IP67 Debu-ketat dan dilindungi terhadap pengaruh perendaman sementara dalam air.
Waktu pengukuran
2 detik
Dimensi & Berat
16×3.8×1.8cm, 70g
(Main Unit only)
Optional
• USB BATERAI CHARGER: RE-34801
• STRAP: RE-39410
* Sertifikat Kalibrasi: Hubungi perwakilan ATAGO untuk rincian.
Keunggulan Atago Digital Hand-held "PEN" Refractometer PEN-PRO :
 
Bentuknya Ergonomis,didesain untuk penggunaan dengan  satu tangan.
Protection class of the PEN is IP65 (Prism head IP67). Anda dapat bilas sampel dengan menjalankan air pada prisma. Desain ini memungkinkan pengguna untuk dengan mudah menghapus sampel.
Kompensasi suhu otomatis pada alat ini memungkinkan anda untuk melakukan pengukuran tanpa memperhatikan temperatur disekitarnya.
Fitur Revolusioner baru, ELI *
* Cahaya External Interference (ELI) – Patent Pending.
Tempat penyimpanan yang mudah
Dapat mengukur sampel yang memiliki temperatur tinggi
*Jangan celupkan alat ini langsung pada wadah mendidih; sebaliknya, tempatkan cairan pada wadah berbeda untuk mengukurnya.
Pencarian Terkait Digital Refractometer ATAGO PEN-PRO :
Atago, refractometer, Refraktometer digital, Refraktometer Brix, harga refraktometer, Hand Refraktometer, Refraktometer, Hand Refractometer Atago, Atago Hand Refractometer, Refractometer Atago, Atago Refractometer, Brix Meter, Auto Refractometer.
Alat Ukur ATAGO genggam PEN-PRO Refractometer
Form Permintaan Penawaran
Mohon untuk diisi dengan benar dan sesuai dengan data diri anda